Yesterday saw us travelling to Wimbledon for  a day of Olympic tennis.
Hi Carole here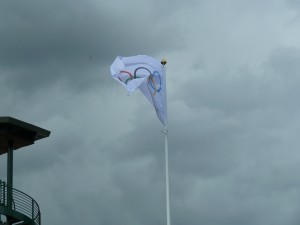 Now it has to be said that I was a little more excited about this than Ivan as I'm the one that plays tennis and is the bigger fan. He would have preferred to be going to see the athletics, gymnastics or beach volleyball (ladies), but we were both happy and grateful we'd managed to get tickets and were able to be part of the 2012 London Olympics. The excitement had been building ever since we'd received our tickets. You can see how excited I was then here
From the moment we walked out of Wimbledon train station we were struck by cheerfulness and friendliness of the army of Olympic volunteers that were on hand to help. They lined the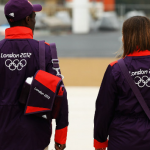 route to the ground, guided people to the free bus and without exception had a smile on their face. When we got to the ground they were still very much in evidence, doing a superb job.
What wonderful ambassadors for our country this cheery bunch are.
There has been much talk lately about the problems with security for the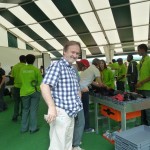 Olympic events. Well we're pleased to report that we found the security system to get into the ground very quick and efficient. Ivan was smiling even though (or because?) he was frisked by a soldier.
The sun was shining and it was promising to be another glorious day. So we wandered around the practice courts to see who was warming up.
And which Olympic tennis players did we see?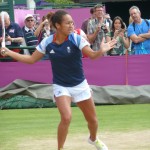 First we spotted Britain's up and coming star Heather Watson who was being closely watched by Andy Murray's mum Judy.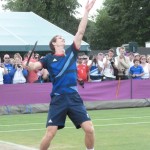 On the next court we found Andy  warming up for his match on centre court that afternoon. A match we would be watching later.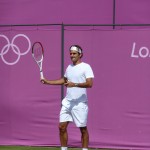 Next we spotted Roger Federer, who had attracted a large crowd of spectators but being on the small side I managed to squeeze my way to the front.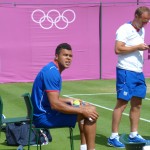 Then Ivan spotted Jo-Wilfred Tsonga on the opposite court, so it was squeeze through the crowd again to get a good view. His was another match we'd be watching later.
It was a thrill for me to be so close to these great players.
Then we looked up and spotted a big black cloud overhead so decided this would be a good time to go and find our seats on Centre Court.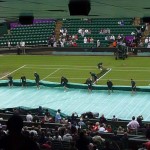 Just as we sat down, luckily under cover, the heavens opened and the rain poured down, and boy did it pour.
Not long after we heard the rumble of the roof closing so we knew the rain wasn't going to spoil our day of tennis. Then the covers came off. The ground staff erected the net, the ball boys and girls came out followed by the line judges and we knew things were about to start.
We started with Julia Goerges of Germany beating number 2 seed Agnieszka Radwanska of Poland.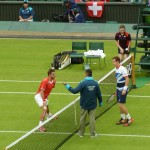 Then came the match most of the crowd (a high percentage of Brits) had been waiting for – Andy Murray against Switzerland's Stanislas Wawrinka. Andy received a standing ovation when he won.
Then Russia's Maria Sharapova's convincing win against Isreal's Shahar Peer.
Concluding with the fierce battle between France's Jo-Wilfred Tsonga and Brazil's Thomaz Bellucci with Tsonga the eventual victor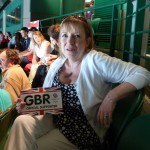 In all around 8 hours of uninterrupted Olympic tennis. Apart from the occasional stretching of the legs, that was around 8 hours glued to my seat.
We felt really sorry for those who had tickets for No 1 Court and ground tickets –  they like us had waited months for this day – and their day of Olympic tennis had turned into something of a washout. We appreciated how lucky we were.
So we made our way back to the station for the journey home having enjoyed a great day of tennis and feeling good we'd been part of London 2012.
There are some who bemoan the fact that so much money has been spent on the games – but what's so wrong in celebrating excellence? – something we, as Brits, do not do enough. We put on an amazing opening ceremony and the games have brought us a much-needed feel good factor. We have have this great opportunity to show the world that we are GREAT BRITAIN.
And as we walked through the streets of Wimbledon  those wonderful volunteers were still smiling.
We'll be back soon