Isaac's Live Lip-Dub Proposal
We just watched the most amazing video on YouTube – Isaac's Live Lip-Dub Proposal, you may have heard of it.  On 23rd May – just a week ago as we write this – some guy called Isaac got to propose to his girl, Amy.  Nothing special about that, you might think, other than for the people involved.
Well, wait until you see what Isaac – and around 60 of his friends – had planned for Amy.
This has to be one of the most heart-warming videos ever but be warned – you WILL cry!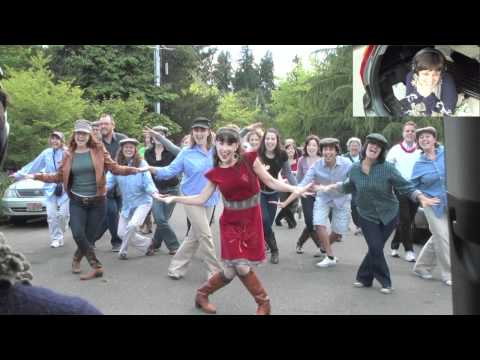 Now, while we absolutely love this, we know that there are thousands of guys around the world who have been summoning up the courage to propose and who know that, whatever they do now, they're going to be measured against this.  Pity them!  Isaac's clearly a great guy but he just put a massive crimp in their day.
Isaac's Live Lip-Dub Proposal has set the bar pretty high
… and, while thousands, if not millions of women around the world are falling in love with Isaac during the course of this 5 minute video (too late, he's taken, ladies), there are just as many men saying to themselves "why didn't I think of that?"
Anyway – let's wish Isaac and Amy all the very best for a wonderful life together (spoiler alert – she says yes) and look forward to more imaginative proposal videos.
We're off to watch Isaac's Live Lip-Dub Proposal again… now, where did we put those Kleenex?