Welcome – and thank you for stopping by.  We certainly hope you will find what you're looking for on our site, which was built with you in mind, and that you will be inspired to take whatever is the right action for you.
Meet Our Family
We are Carole and Ivan Eyre and live near Horsham in West Sussex.  We have two adult sons; Christopher, the older of the two, lives with us, while Michael, the younger, has left us for the time being having begun a degree course at University in September 2010.  Our dog, Jack, completes the family and probably gets more attention from the other 4 members than is strictly necessary!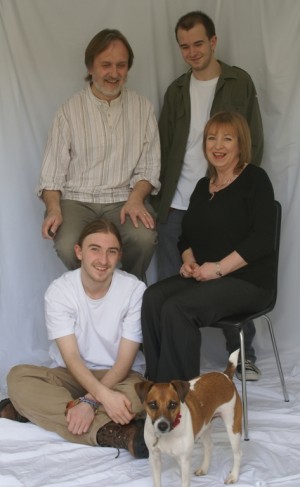 Why You're Here
Our guess is you're visiting this site because you want to make changes in your life.  There's something not quite right; something you're not satisfied with and you know it could be – should be – a whole lot better.
It could be you're currently in a job but feel you're in a rut and have heard that the internet is the way out – but you don't know where to start.  On the other hand, maybe you're a veteran of several failed attempts to get going but just know, if you could 'crack it', the internet is the place to achieve your dreams.  Or maybe you've had a degree of success already and you're just looking to consolidate that – to use the old phrase, to work smarter not harder, to leverage your time so you have more of it to spend doing what you want to do.  And while we're talking spending, I'm sure most of us wouldn't say 'no' to earning more money to use as we wish.
Our Story
So let's tell you a little more about our story.
Carole put her career on hold to be a stay-at-home mum for our two boys until both had started school.  Although, for us and for the boys, we felt and still do feel that was absolutely the right decision, our bank balance told a very different story!
Once Michael was in school, Carole worked in adult education, teaching pre-school staff in child development.  Voluntary work at the village school led to her being offered a job there, where she went on to train as a Higher Level Teaching Assistant.
I had worked in the Civil Service and then in retail but the need to earn a higher income saw me make a career change around 20 years ago into financial services.
I became an adviser and in the mid 90s decided to focus my efforts on helping those in later life who had need of care – most often resulting in a move to a care home with a subsequent sale of a property.  A distressing time for most people and one that needs to be dealt with in a sensitive and caring manner.  I was thrilled to have my professionalism recognized in 2008 by being one of the first 24 in the UK to be awarded Accredited Later Life Adviser status by the Financial Services Skills Council.
So Why Change Things?
Rewarding though my work is, over the years, it has demanded more and more of my time – to the point I have long since had my mobile number removed from my business card and letterhead (some of my not-so-young clients are not so respectful of personal time and it was not unusual for them to call just as my head hit the pillow!)
For many years I have believed the internet has been a fantastic source of information and a forum for the exchange of ideas as well as an incredible market place, unprecedented in human history.
For almost as long, I tried to make that market work for us.  I tried many ways to capitalize on it and I'd like to say I had met with varying degrees of success.  The truth is, the success I met was little to none.  I fell firmly into that battle-scarred group – the serial opportunity buyer!  Embarrassing, but true.  Nevertheless, I remained convinced the internet would provide the opportunity to earn a greater income and free up more time to do the things we'd always dreamed of.
The Catalyst
So what has changed?  And why are we telling you all this?
Well, some time ago, we went through a period of about a year or so which saw some major changes in our lives – friends had illnesses, I lost my mother and a fair few other things that, in themselves, were pretty negative.  We decided, though, that we should learn from these experiences and take what positives we could from them.
The biggest has been a realization that 'this ain't a rehearsal' and we want to make sure we squeeze every bit out of our time here.  We want more time for ourselves, more time to pursue our hobbies, more time to take up new ones, more time to travel.  We want to be able to do more to support our families and we want to be able to do more for our favourite charities.  Probably a bit predictable but, hey, it's what we want.  No-one said we had to be original!
Our 'Stroke Of Luck'
Anyway, while on holiday (our first in 3 years – does that tell a story?) we decided the familiar pattern was not going to repeat itself.  We were going to make the necessary changes; we were going to do whatever it takes – but we were not just going to jump on the next passing bandwagon.
We decided we were going to research things properly and, to be honest, we thought it would take a whole lot longer than it did!  Luckily for us, after a very short period, we stumbled upon a site which talked exactly our language, which demonstrated with absolute clarity what we needed – not just another course, but a complete mentoring and support package which would help us build and develop a business from scratch and stay with us offering help, encouragement and advice every step of the way.  After a period of research and reflection, including telephone conversations with the guy who is now our mentor (we didn't want to be suckered in to yet another 'scheme'), we confirmed we had found what we were looking for.
Somewhere we could learn our trade properly and then, having learned it, we can put into practice those lessons and pass on that knowledge gained to others.  What we've found is an 'apprenticeship'.  We are taught, coached and encouraged along the right path by people who have paved the way for us.
What This Is NOT
Please do not go rushing off with the idea this is a get-rich-quick scheme.  You will not find any promises here of untold wealth resulting from half an hour's work on a Tuesday morning.  If that's what you're looking for, then you had better try elsewhere.  But if you do find anyone offering you that – please don't be taken in.  Remember – I learned the hard way; they just don't work.
Want To See If It's For You?
So that's our story to date.  That's what we're doing – building our business and changing our future and, if you're serious about changing your future, serious about working towards achieving your goals, serious about increasing your income and serious about freeing up more of your time to do the things you want to do, then there's a couple of things you can do.  You can receive with our compliments the FREE 7-Day video course which will tell you more about the way we now work and how you can build a business just like we are building ours.  Just put your first name and email in the box on the right of this page and you will get instant access to day 1.
Or, if you'd like to ask some questions and talk it through, we'd love to hear from you.  Just go to our Contact Us page and call or email either one of us and we'll be delighted to talk with you and help you decide if what's working for us would be right for you.